Spire.Email allows developers to search mailbox for email messages that match the given search criteria. This article illustrates how to search email messages using Spire.Email component.
Detail steps:
Step 1: Create an ImapClient instance.
ImapClient imap = new ImapClient();

Step 2: Set host, port, authentication and connection protocol.
imap.Host = "outlook.office365.com";
imap.Port = 143;
imap.Username = "LeonDavisLD@outlook.com";
imap.Password = "password";
imap.ConnectionProtocols = ConnectionProtocols.Ssl;

Step 3: connect the imap server.
Step 4: Select Inbox folder.
Step 5: Search email messages in the folder that match the search criteria.
//Search email messages sent from "Alice"
ImapMessageCollection messages = imap.Search("'From' Contains 'Alice'");
Console.WriteLine("Number of messages sent from Alice: " + messages.Count);

//Search email messages with "Spire" string in subject
messages = imap.Search("'Subject' Contains 'Spire'");
Console.WriteLine("Number of messages with 'Spire' in subject: " + messages.Count);

Screenshot: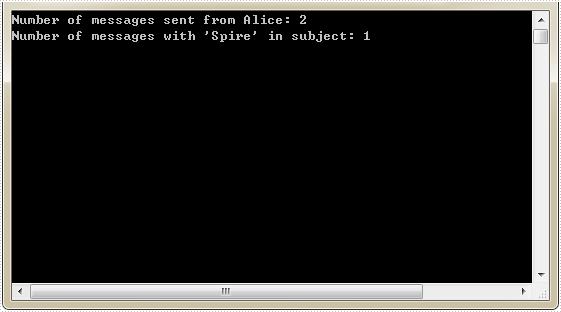 Full code:
[C#]
using Spire.Email;
using Spire.Email.IMap;
using System;

namespace SearchEmailMessages 
{
    class Program
    {
        static void Main(string[] args)
        {
            //Create an ImapClient instance
            ImapClient imap = new ImapClient();

            //Set host, port, authentication and connection protocol
            imap.Host = "outlook.office365.com";
            imap.Port = 143;
            imap.Username = "LeonDavisLD@outlook.com";
            imap.Password = "password";
            imap.ConnectionProtocols = ConnectionProtocols.Ssl;

            //Connect the imap server
            imap.Connect();

            //Select Inbox folder
            imap.Select("Inbox");

            //Search email messages sent from "Alice"
            ImapMessageCollection messages = imap.Search("'From' Contains 'Alice'");
            Console.WriteLine("Number of messages sent from Alice: " + messages.Count);

            //Search email messages with "Spire" string in subject
            messages = imap.Search("'Subject' Contains 'Spire'");
            Console.WriteLine("Number of messages with 'Spire' in subject: " + messages.Count);    
        }
    }
}

[VB.NET]
Imports Spire.Email
Imports Spire.Email.IMap

Namespace SearchEmailMessages
	Class Program
		Private Shared Sub Main(args As String())
			'Create an ImapClient instance
			Dim imap As New ImapClient()

			'Set host, port, authentication and connection protocol
			imap.Host = "outlook.office365.com"
			imap.Port = 143
			imap.Username = "LeonDavisLD@outlook.com"
			imap.Password = "password"
			imap.ConnectionProtocols = ConnectionProtocols.Ssl

			'Connect the imap server
			imap.Connect()

			'Select Inbox folder
			imap.[Select]("Inbox")

			'Search email messages sent from "Alice"
			Dim messages As ImapMessageCollection = imap.Search("'From' Contains 'Alice'")
			Console.WriteLine("Number of messages sent from Alice: " + messages.Count)

			'Search email messages with "Spire" string in subject
			messages = imap.Search("'Subject' Contains 'Spire'")
			Console.WriteLine("Number of messages with 'Spire' in subject: " + messages.Count)
		End Sub
	End Class
End Namespace