Spire.XLS supports to add data validation to restrict input that users can or should insert to a cell. It also supports to remove data validations from the specified ranges or the whole worksheet. Following code snippets demonstrate how to remove validations using Spire.XLS in C#.
Source File:
In the source file, there are drop-down list validations in the cells where R&D appears.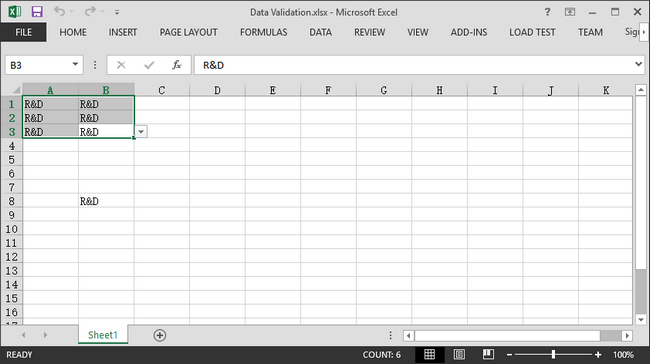 Remove validation in specific ranges
//Create an object of Workbook class
Workbook wb = new Workbook();

//Load a source document 
wb.LoadFromFile("Data Validation.xlsx");

//Create an array of rectangles, which is used to locate the ranges in worksheet
Rectangle[] rectangles = new Rectangle[1];

//Assign value to the first element of the array. This rectangle specifies the cells from A1 to B3.
rectangles[0] = new Rectangle(0, 0, 1, 2);

//Remove validations in the ranges represented by rectangles
wb.Worksheets[0].DVTable.Remove(rectangles);

//Save the file
wb.SaveToFile("Output.xlsx", ExcelVersion.Version2013);

Output:
As is shown in the screenshot below, drop-down list validations in the range A1 to B3 have been removed.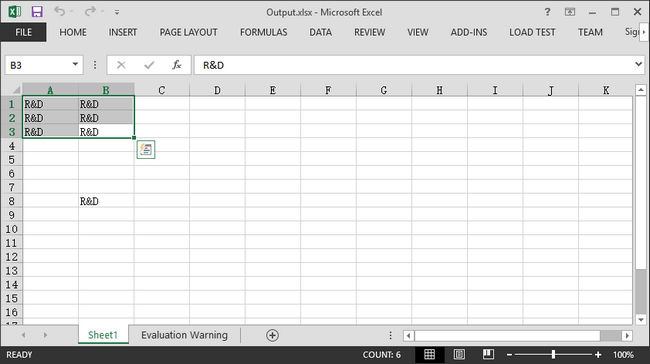 Remove validations in the whole worksheet
//Create an object of Workbook class
Workbook wb = new Workbook();

//Load a source document 
wb.LoadFromFile("Data Validation.xlsx");

//Call DVTable.Clear() method to remove all validations in the worksheet
wb.Worksheets[0].DVTable.Clear();

//Save the file
wb.SaveToFile("Output.xlsx", ExcelVersion.Version2013);

Output: