This article is going to introduce how to create, write and save word document in WPF via Spire.Doc for WPF.
Spire.Doc for WPF enables users to do a large range of manipulations (such as create, write, open, edit, convert and save, etc.) on word with high performance and efficiency. In addition, as a powerful and independent library, it doesn't require Microsoft Office or any other 3rd party tools to be installed on system.
Note: please download and install Spire.Doc correctly and add the dll file from the installation folder as reference.
First, let's begin to create a word document in WPF.
Use namespace:
using System.Windows;
using Spire.Doc;
using Spire.Doc.Documents;

Step 1: Create a new word document instance, next add a section and a paragraph to it.
//Create New Word
Document doc = new Document();
//Add Section
Section section = doc.AddSection();
//Add Paragraph
Paragraph Para = section.AddParagraph();

Second, we're going to write something into the document.
Step 2: Append some text to it.
//Append Text
Para.AppendText("Hello! "
+ "I was created by Spire.Doc for WPF, it's a professional .NET Word component "
+ "which enables developers to perform a large range of tasks on Word document (such as create, open, write, edit, save and convert "
+ "Word document) without installing Microsoft Office and any other third-party tools on system.");

Third, save the generated document.
Step 3: Save and launch the document.
//Save and launch
doc.SaveToFile("MyWord.docx", FileFormat.Docx);
System.Diagnostics.Process.Start("MyWord.docx");

Output: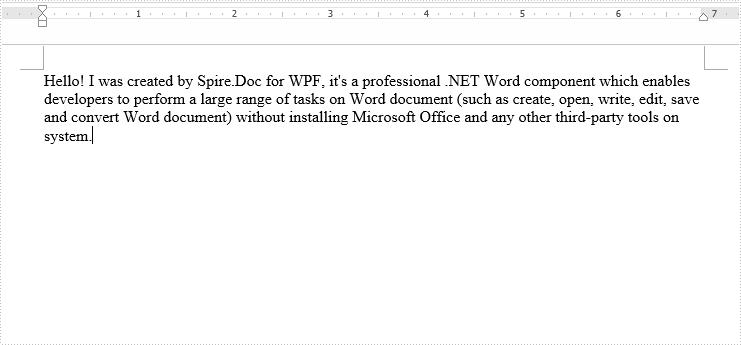 Full codes:
using Spire.Doc;
using Spire.Doc.Documents;
using System.Windows;

namespace WpfApplication1
{
    public partial class MainWindow : Window
    {
        public MainWindow()
        {
            InitializeComponent();
        }
        private void button1_Click(object sender, RoutedEventArgs e)
        {
            //Create New Word
            Document doc = new Document();
            //Add Section
            Section section = doc.AddSection();
            //Add Paragraph
            Paragraph Para = section.AddParagraph();
            //Append Text
            Para.AppendText("Hello! "
            + "I was created by Spire.Doc for WPF, it's a professional .NET Word component "
            + "which enables developers to perform a large range of tasks on Word document (such as create, open, write, edit, save and convert "
            + "Word document) without installing Microsoft Office and any other third-party tools on system.");
            //Save and launch
            doc.SaveToFile("MyWord.docx", Spire.Doc.FileFormat.Docx);
            System.Diagnostics.Process.Start("MyWord.docx");
        }

    }
}