We have already demonstrated how to merge multiple workbooks into a single workbook. This example shows how to merge multiple worksheets from different workbooks into a single worksheet by using the method Worksheet.Range.Copy(); offered by Spire.XLS.
Note: Before Start, please download the latest version of Spire.XLSand add Spire.xls.dll in the bin folder as the reference of Visual Studio.
Here comes to the details of how to merge Excel worksheets into one worksheet. Firstly, view the source files for different worksheets from different Excel workbooks: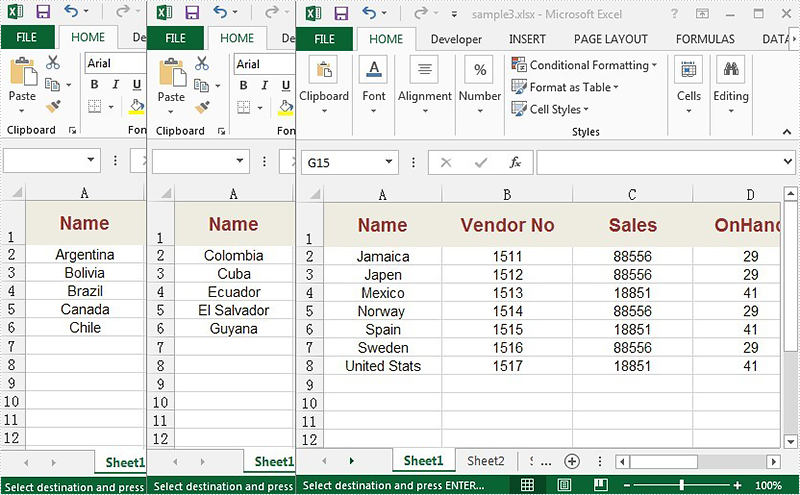 Step 1: Create a new workbook and load from file.
Workbook MerBook = new Workbook();
MerBook.LoadFromFile("sample.xlsx");

Step 2: Get the first worksheet from workbook.
Worksheet MerSheet = MerBook.Worksheets[0];

Step 3: Create the second workbook and load from file.
Workbook SouBook1 = new Workbook();
SouBook1.LoadFromFile("sample2.xlsx");

Step 4: Define the LastRow and LastColumn for the first worksheet in the second workbook.
int a = SouBook1.Worksheets[0].LastRow;
int b = SouBook1.Worksheets[0].LastColumn;

Step 5: Copy the data from the defined range on the second workbook.
SouBook1.Worksheets[0].Range[2, 1, a, b].Copy(MerSheet.Range[MerSheet.LastRow + 1, 1, a + MerSheet.LastRow, b]);

Step 6: Save the document to file.
MerBook.SaveToFile("reslut.xlsx", ExcelVersion.Version2010);   

Effective screenshot: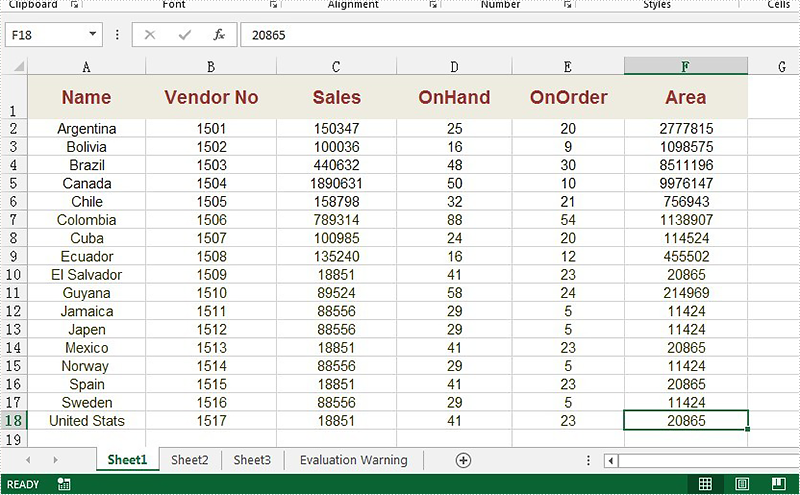 Full codes:
using Spire.Xls;
namespace MergeExcel
{
    class Program
    {

        static void Main(string[] args)
        {
            {
                Workbook MerBook = new Workbook();
                MerBook.LoadFromFile("sample.xlsx");
                Worksheet MerSheet = MerBook.Worksheets[0];

                Workbook SouBook1 = new Workbook();
                SouBook1.LoadFromFile("sample2.xlsx");
                int a = SouBook1.Worksheets[0].LastRow;
                int b = SouBook1.Worksheets[0].LastColumn;
                SouBook1.Worksheets[0].Range[2, 1, a, b].Copy(MerSheet.Range[MerSheet.LastRow + 1, 1, a + MerSheet.LastRow, b]);


                Workbook SouBook2 = new Workbook();
                SouBook2.LoadFromFile("sample3.xlsx");
                int c = SouBook2.Worksheets[0].LastRow;
                int d = SouBook2.Worksheets[0].LastColumn;
                SouBook2.Worksheets[0].Range[2, 1, c, d].Copy(MerSheet.Range[MerSheet.LastRow + 1, 1, c + MerSheet.LastRow, d]);

                MerBook.SaveToFile("reslut.xlsx", ExcelVersion.Version2010);

            }


        }

    }
}