PDF properties display a summary of basic information about one document, such as the author, subject, created time, security settings and etc. By viewing the properties of a PDF document, users are able to learn about PDF file information as soon as possible. In this article, I'll introduce how to get properties of a PDF file using Spire.PDF in C# and VB.NET.
In fact, it is very easy to get the specific information of a PDF file by using Information property of the PdfDoucment object. Once the DocumentInformation object is retrieved, you can get the values of the individual properties.
Properties of Sample File: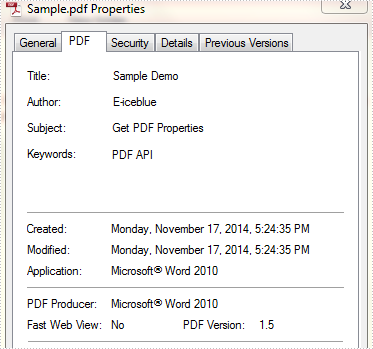 Code Snippet:
Step 1: Create a new PDF document and load the sample file.
PdfDocument pdf = new PdfDocument("Sample.pdf");

Step 2: Get the document properties and display them on console.
Console.WriteLine("Title: " + pdf.DocumentInformation.Title);
Console.WriteLine("Author: " + pdf.DocumentInformation.Author);
Console.WriteLine("Subject: " + pdf.DocumentInformation.Subject);
Console.WriteLine("Keywords: " + pdf.DocumentInformation.Keywords);
Console.WriteLine("Created: " + pdf.DocumentInformation.CreationDate);
Console.WriteLine("Modified: " + pdf.DocumentInformation.ModificationDate);
Console.WriteLine("Creator: " + pdf.DocumentInformation.Creator);
Console.WriteLine("PDF Producer: " + pdf.DocumentInformation.Producer);

Result in Console: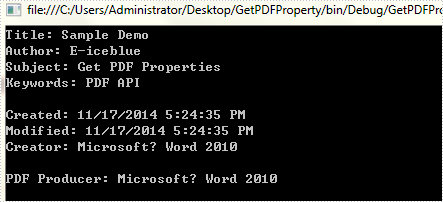 Full Code:
[C#]
using Spire.Pdf;
using System;

namespace GetPropertiesOfPDF
{
    class Program
    {
        static void Main(string[] args)
        {
            PdfDocument pdf = new PdfDocument("Sample.pdf");
            Console.WriteLine("Title: " + pdf.DocumentInformation.Title);
            Console.WriteLine("Author: " + pdf.DocumentInformation.Author);
            Console.WriteLine("Subject: " + pdf.DocumentInformation.Subject);
            Console.WriteLine("Keywords: " + pdf.DocumentInformation.Keywords);
            Console.WriteLine("");
            Console.WriteLine("Created: " + pdf.DocumentInformation.CreationDate);
            Console.WriteLine("Modified: " + pdf.DocumentInformation.ModificationDate);
            Console.WriteLine("Creator: " + pdf.DocumentInformation.Creator);
            Console.WriteLine("");
            Console.WriteLine("PDF Producer: " + pdf.DocumentInformation.Producer);
            Console.ReadKey();
        }
    }
}

[VB.NET]
Imports Spire.Pdf

Namespace GetPropertiesOfPDF
	Class Program
		Private Shared Sub Main(args As String())
			Dim pdf As New PdfDocument("Sample.pdf")
			Console.WriteLine("Title: " + pdf.DocumentInformation.Title)
			Console.WriteLine("Author: " + pdf.DocumentInformation.Author)
			Console.WriteLine("Subject: " + pdf.DocumentInformation.Subject)
			Console.WriteLine("Keywords: " + pdf.DocumentInformation.Keywords)
			Console.WriteLine("")
			Console.WriteLine("Created: " + pdf.DocumentInformation.CreationDate)
			Console.WriteLine("Modified: " + pdf.DocumentInformation.ModificationDate)
			Console.WriteLine("Creator: " + pdf.DocumentInformation.Creator)
			Console.WriteLine("")
			Console.WriteLine("PDF Producer: " + pdf.DocumentInformation.Producer)
			Console.ReadKey()
		End Sub
	End Class
End Namespace