With the help of Spire.PDF for .NET, we can easily add a new image to an existing PDF file. Now starts from Spire.PDF v3.5.80, we can delete an image via the index of image from a PDF file in C# easily. Firstly, check the original PDF file with an image at the page and the other image as background image.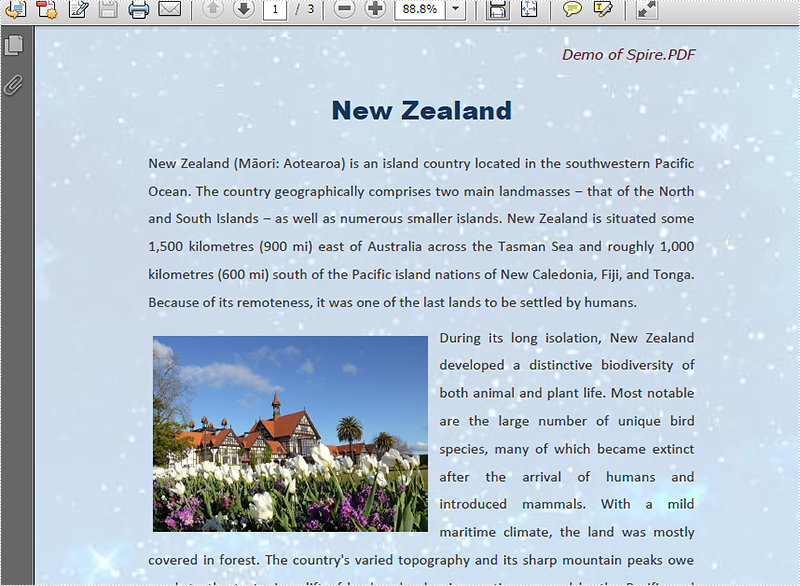 The following code snippet shows how to delete an image from a PDF file:
Step 1: Create a new instance of PdfDocument and load a PDF document from file.
PdfDocument pdf = new PdfDocument();
pdf.LoadFromFile("Sample.pdf");

Step 2: Get the first page of the loaded PDF file.
PdfPageBase page=pdf.Pages[0];

Step 3: Delete an image via the index of image.
Step 4: Save the document to file.
pdf.SaveToFile("result.pdf");

Effective screenshot:
Full codes:
using Spire.Pdf;

namespace DeleteImage
{
    class Program
    {
        static void Main(string[] args)
        {
            PdfDocument pdf = new PdfDocument();
            pdf.LoadFromFile("Sample.pdf");
            PdfPageBase page = pdf.Pages[0];
            page.DeleteImage(1);
            pdf.SaveToFile("result.pdf");
        }
    }
}