The following code snippets show you how we can find x and y coordinates of an image in a PDF document.
Step 1: Create a PdfDocument object and load a sample PDF file.
PdfDocument doc = new PdfDocument();
doc.LoadFromFile("sample.pdf");

Step 2: Get all the image information from the specified page.
PdfImageInfo[] imageInfo = doc.Pages[0].ImagesInfo;

Step 3: Get the x and y coordinates of the first image through Bounds property.
RectangleF rect = imageInfo[0].Bounds;
Console.WriteLine("The image is located at({0},{1})", rect.X, rect.Y);

Output: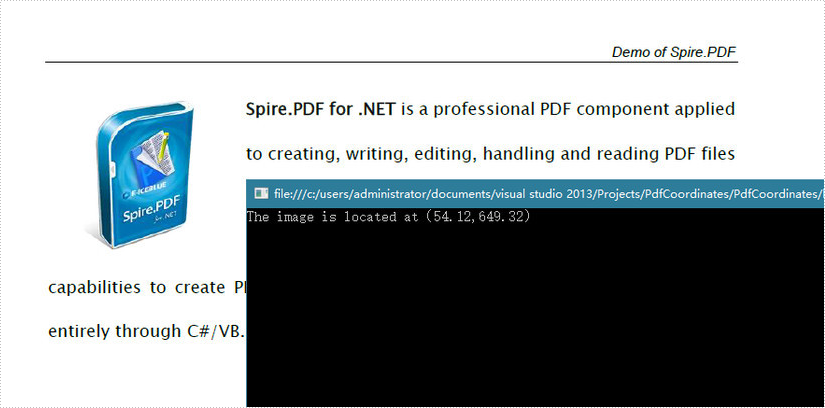 Full Code:
[C#]
using Spire.Pdf;
using Spire.Pdf.Exporting;
using System;
using System.Drawing;


namespace Coordinates
{
    class Program
    {
        static void Main(string[] args)
        {
            PdfDocument doc = new PdfDocument();
            doc.LoadFromFile("sample.pdf");
            PdfImageInfo[] imageInfo = doc.Pages[0].ImagesInfo;
            RectangleF rect = imageInfo[0].Bounds;
            Console.WriteLine("The image is located at({0},{1})", rect.X, rect.Y);
        }
    }
}

[VB.NET]
Imports Spire.Pdf
Imports Spire.Pdf.Exporting
Imports System.Drawing


Namespace Coordinates
	Class Program
		Private Shared Sub Main(args As String())
			Dim doc As New PdfDocument()
			doc.LoadFromFile("sample.pdf")
			Dim imageInfo As PdfImageInfo() = doc.Pages(0).ImagesInfo
			Dim rect As RectangleF = imageInfo(0).Bounds
			Console.WriteLine("The image is located at({0},{1})", rect.X, rect.Y)
		End Sub
	End Class
End Namespace