Required fields force the user to fill in the selected form field. If the user attempts to submit the form while a required field is blank, an error message appears and the empty required form field is highlighted.
Using Spire.PDF, we're able to enforce a form field as "Required" or determine which fields are required in an existing PDF document. This article mainly introduce how to detect the required form fields in C# and VB.NET.
Code Snippet:
Step 1: Initialize an instance of PdfDocument class and load a sample PDF file that contains some form fields.
PdfDocument doc = new PdfDocument();
doc.LoadFromFile(@"C: \Users\Administrator\Desktop\PdfFormExample.pdf");

Step 2: Get all form widgets from the PDF document.
PdfFormWidget formWidget = doc.Form as PdfFormWidget;

Step 3: Traverse the form widgets to find the form field that is required and print all results on console.
for (int i = 0; i < formWidget.FieldsWidget.List.Count; i++)
{
    PdfField field = formWidget.FieldsWidget.List[i] as PdfField;
    string fieldName = field.Name;
    bool isRequired = field.Required;
    if (isRequired)
    {
        Console.WriteLine(fieldName + " is required.");
    }
}

Output: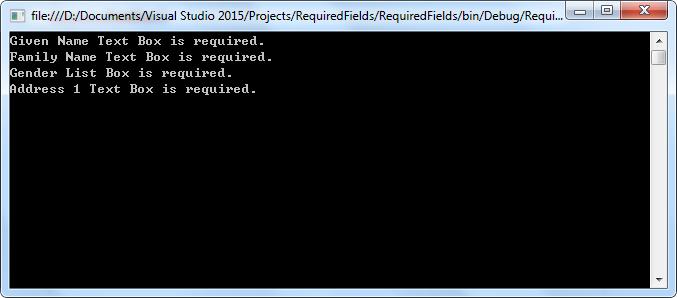 Full Code:
[C#]
using Spire.Pdf;
using Spire.Pdf.Fields;
using Spire.Pdf.Widget;
using System;

namespace Detect
{
    class Program
    {
        static void Main(string []args)
        {
            PdfDocument doc = new PdfDocument();
            doc.LoadFromFile(@"C: \Users\Administrator\Desktop\PdfFormExample.pdf");

            PdfFormWidget formWidget = doc.Form as PdfFormWidget;
            for (int i = 0; i < formWidget.FieldsWidget.List.Count; i++)
            {
                PdfField field = formWidget.FieldsWidget.List[i] as PdfField;
                string fieldName = field.Name;
                bool isRequired = field.Required;
                if (isRequired)
                {
                    Console.WriteLine(fieldName + " is required.");
                }
            }
            Console.ReadKey();
        }
    }
}

[VB.NET]
Imports Spire.Pdf
Imports Spire.Pdf.Fields
Imports Spire.Pdf.Widget

Namespace Detect
	Class Program
		Private Shared Sub Main(args As String())
			Dim doc As New PdfDocument()
			doc.LoadFromFile("C: \Users\Administrator\Desktop\PdfFormExample.pdf")

			Dim formWidget As PdfFormWidget = TryCast(doc.Form, PdfFormWidget)
			For i As Integer = 0 To formWidget.FieldsWidget.List.Count - 1
				Dim field As PdfField = TryCast(formWidget.FieldsWidget.List(i), PdfField)
				Dim fieldName As String = field.Name
				Dim isRequired As Boolean = field.Required
				If isRequired Then
					Console.WriteLine(fieldName & Convert.ToString(" is required."))
				End If
			Next
			Console.ReadKey()
		End Sub
	End Class
End Namespace