To extract text by line from PDF document, use the ExtractText() method without passing any parameter. However, this method also can take a SimpleTextExtractionStrategy object as an argument, which keeps track of the current Y position of each string and inserts a line break into the output if the Y position has changed.
Step 1: Load a sample PDF document to PdfDocument object.
PdfDocument doc = new PdfDocument();
doc.LoadFromFile("sample.pdf");

Step 2: Get the first page.
PdfPageBase page = doc.Pages[0];

Step 3: Create an instance of SimpleTextExtractionStrategy class.
SimpleTextExtractionStrategy strategy = new SimpleTextExtractionStrategy();

Step 4: Extract text from the given PDF page by SimpleTextExtractionStrategy.
string text = page.ExtractText(strategy)

Step 5: Write text to a TXT file.
FileStream fs = new FileStream("result.txt",FileMode.Create);
StreamWriter sw = new StreamWriter(fs);
sw.Write(text);

Output: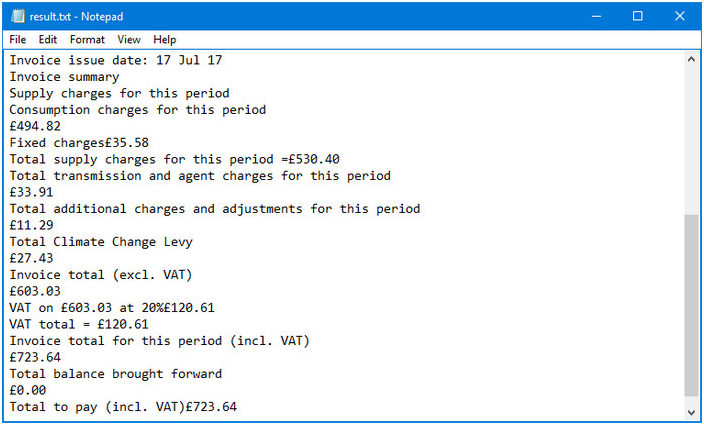 Full Code:
[C#]
using Spire.Pdf;
using Spire.Pdf.Exporting.Text;
using System.IO;

namespace ExtractText
{
    class Program
    {
        static void Main(string[] args)
        {
            PdfDocument doc = new PdfDocument();
            doc.LoadFromFile("sample.pdf");
            PdfPageBase page = doc.Pages[0];

            SimpleTextExtractionStrategy strategy = new SimpleTextExtractionStrategy();
            string text = page.ExtractText(strategy);
            FileStream fs = new FileStream("result.txt", FileMode.Create);
            StreamWriter sw = new StreamWriter(fs);
            sw.Write(text);
            sw.Flush();
            sw.Close();
        }
    }
}

[VB.NET]
Imports Spire.Pdf
Imports Spire.Pdf.Exporting.Text
Imports System.IO

Namespace ExtractText
	Class Program
		Private Shared Sub Main(args As String())
			Dim doc As New PdfDocument()
			doc.LoadFromFile("sample.pdf")
			Dim page As PdfPageBase = doc.Pages(0)

			Dim strategy As New SimpleTextExtractionStrategy()
			Dim text As String = page.ExtractText(strategy)
			Dim fs As New FileStream("result.txt", FileMode.Create)
			Dim sw As New StreamWriter(fs)
			sw.Write(text)
			sw.Flush()
			sw.Close()
		End Sub
	End Class
End Namespace