Alternative text (alt text) can help people with screen readers understand the content of our table. This article is going to demonstrate how to add or get the alternative text of a table in a word document using Spire.Doc.
In Spire.Doc, we can set or get the alternative text of a table using the Table.Title and Table.TableDescription properties. The following example shows how to add alternative text to a table.
Detail steps:
Step 1: Instantiate a Document object and load a word document.
Document doc = new Document();
doc.LoadFromFile("Input.docx");

Step 2: Get the first section.
Section section = doc.Sections[0];

Step 3: Get the first table in the section.
Table table = section.Tables[0] as Table;

Step 4: Add alt text to the table.
//Add title
table.Title = "Table 1";
//Add description
table.TableDescription = "Description Text";

Step 5: Save the document.
doc.SaveToFile("output.docx", FileFormat.Docx2013);

Screenshot: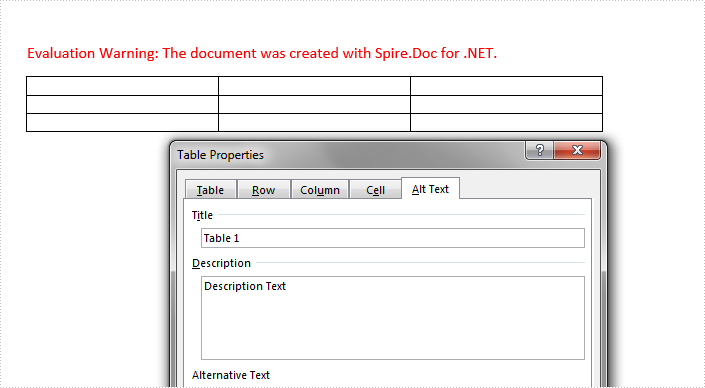 Full code:
using Spire.Doc;

namespace Add_Alt_Text_To_Word_Table
{
    class Program
    {
        static void Main(string[] args)
        {
            //Instantiate a Document object
            Document doc = new Document();
            //Load a word document
            doc.LoadFromFile("Input.docx");

            //Get the first section
            Section section = doc.Sections[0];

            //Get the first table in the section
            Table table = section.Tables[0] as Table;
 
            //Add alt text

            //Add tile
            table.Title = "Table 1";
            //Add description
            table.TableDescription = "Description Text";

            //Save the document
            doc.SaveToFile("output.docx", FileFormat.Docx2013);            
        }
    }
}