TIFF(Tagged Image File Format) is a flexible and adaptable file format for handling images and data within a single file. It's popular among graphic artists or the publishing industry. As a popular image format, TIFF file owns the ability of storing image data in a lossless format and it can be a container holding compressed (lossy) JPEG and (lossless) PackBits compressed images. However, TIFF can be created through Spire.Doc. By using Spire.Doc, developers can easily convert documents from Word to TIFF.
Download Spire.Doc (or Spire.Office) with .NET Framework 2.0 (or above) together. Once make sure Spire.Doc (or Spire.Office) are correctly installed on system, follow the steps below to convert Word to TIFF.
Step 1: Open your Visual Studio and create a new project, choose "Windows Forms Application". In "Solution Explorer", right click "Reference" and then choose "Add Reference". Browse to the directory where you install the component. Now you can add codes to convert word to Tiff Image.
Step 2: Add a "Button" to Form1. Double click the button, add the following codes in the top of file.
[C#]
using Spire;
using Spire.Doc;
using Spire.Doc.Documents;
using System.Drawing.Imaging;

[VB.NET]
Imports Spire
Imports Spire.Doc
Imports Spire.Doc.Documents
Imports System.Drawing.Imaging

Step 3: Spire.Doc allows users to create Word document with colorful content. Here we can use Spire.Doc to create a test Word document.
[C#]
Document document = new Document();  
doc.LoadFromFile("Word.docx"); 

[VB.NET]
Dim document As New Document()
doc.LoadFromFile("Word.docx")

Step 4: Spire.Doc presents almost the easiest solution to do Word to TIFF conversion. Through the following 2 simple sentences of code, we can save Word document as TIFF format.
[C#]
Image image = document.SaveToImages(0, ImageType.Bitmap);  
image.Save("Sample.tif", ImageFormat.Tiff);

[VB.NET]
Dim image As Image = document.SaveToImages(0, ImageType.Bitmap)
image.Save("Sample.tif", ImageFormat.Tiff)

After finish writing codes, start the project by pressing F5 and click the button. Then, a TIFF file will be automatically generated. Check out the effect image below:
Effective Screenshot: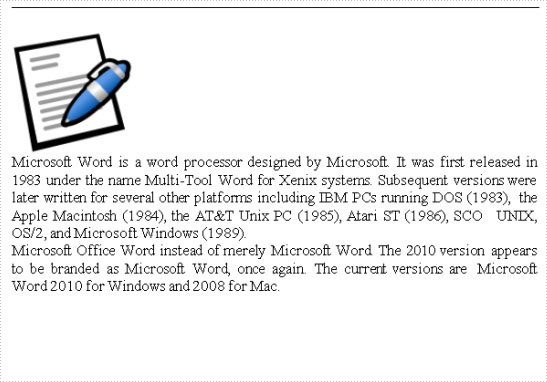 Spire.Doc can convert Word to most of popular file formats. It can convert Word to PDF, HTML, XML, RTF, Text, ePub, etc. Click to learn more