Spire.Doc

Spire.Doc (117)
Children categories
Convert Word document to HTML is popular and widely used by programmers and developers. With the help of Spire.Doc for .NET, a professional word component, without installing MS Word, developers can convert word to html with only two lines of key code in C#. At the same time, Spire.Doc supports convert HTML to word document easily and quickly.
This article still focuses on convert word from/to HTML, while it mainly about the supports of embed image in the word document and HTML. With the improvements of Spire.Doc (starts from Spire.Doc V. 4.9.32), now it supports the new function of ImageEmbedded.
Please download Spire.Doc (version 4.9.32 or above) with .NET framework together and follow the simple steps as below:
Convert Word to HTML in C#:
Step 1: Create the word document.
[C#]
Document document = new Document();

Step 2: Set the value of imageEmbedded attribute.
[C#]
doc.HtmlExportOptions.ImageEmbedded=true;

Step 3: Save word document to HTML.
[C#]
doc.SaveToFile("result.html",FileFormat.Html);

Spire.Doc also supports load the result HTML page and convert it into word document in only three lines of codes as below.
[C#]
doc.SaveToFile("htmltoword.docx",FileFormat.Docx);

Besides conversion of word from/to HTML, Spire.Doc also supports Convert Word to PDF, Convert Word to Image and Convert Word to XPS in C#.
The article will introduce an easy way to convert Word to Emf by a powerful and independent Word .NET component called Spire.Doc, without Microsoft Word installed on the machine. It also offers support for converting Word and HTML to frequently-used image formats like Jpeg, Png, Gif, Bmp and Tiff, etc. Just click here to have a try.
Emf is a file extension for Enhanced MetaFile, used as a graphics language for printer drivers by the Windows operating system. In 1993, a newer version with additional commands 32-bit version of Win32/GDI introduced the Enhanced Metafile (Emf). Microsoft also recommends enhanced-format (Emf) functions to be used instead of rarely being used Windows-format (WMF) functions.
Spire.Doc presents almost the easiest solution to convert Word to Emf through the following 5 lines simple code.
[C#]
// create an instance of Spire.Doc.Document
Document doc = new Document();
// load the file base on a specified file name
doc.LoadFromFile(@"../../Original Word.docx", FileFormat.Docx);
//convert the first page of document to image
System.Drawing.Image image = doc.SaveToImages(0, Spire.Doc.Documents.ImageType.Metafile);
// save the document object to Emf file
image.Save(@"../../Convert Word to Image.emf", ImageFormat.Emf);
//close the document
doc.Close();

Check the effect screenshot below:
Background
This technical article mainly discuss the method that how Spire.Doc fulfill its printing function. Word document developed by Microsoft is now widely used for office users. It is a common need when people need to print word document through a printer. While for programmers, it would not be a simple task to load word document into program and pint it out. Especially when it comes to web printing, it is difficult to realize background printing without interaction.
Aimed at these two points, we developed Spire.Doc for .NET, by which you can easily load word document into your .NET applications, and print it entirely out. In fact, it can be applied in console platform, WinForm, and Asp.net application.
Approach
The following method is based on the example of console platform. Firstly, you can click here to download Spire.Doc for .NET. Below is the screenshot of the original word document: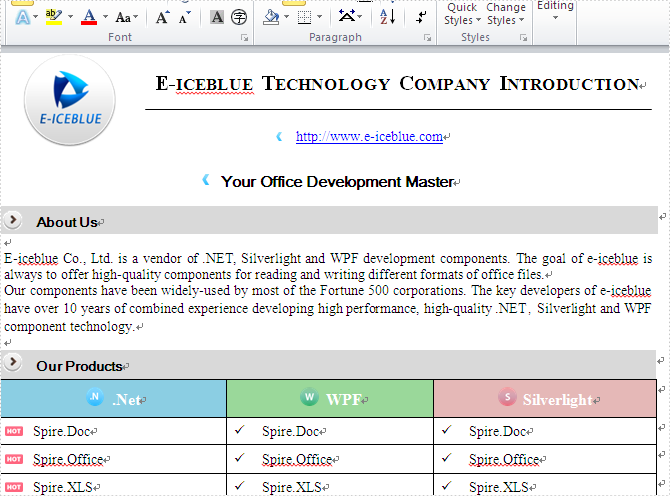 Step1: Create a new project in Visual Studio. Then set its target framework to be .NET framework 2.0. Add reference assembly "System.windows.forms.dll,System.Drawing.dll, Spire.Doc.dll"
Step2: Instantiated an object of Spire.Doc.Document and call its method of LoadFromFile in your project to load Word document.
[C#]
Document doc = new Document(); 
doc.LoadFromFile("sample.doc");

Step3: Instantiated an object of System.Windows.Forms.PrintDialog and set some of its relative properties. Here, one key point has to be noticed that you should associate System.Windows.Forms.PrintDialog object with Spire.Doc.Document while in this process.
[C#]
PrintDialog dialog = new PrintDialog();
dialog.AllowPrintToFile = true; 
dialog.AllowCurrentPage = true;
dialog.AllowSomePages = true;
dialog.UseEXDialog = true;                     
doc.PrintDialog = dialog;  

Step4: Start background printing. You should get System.Drawing.Printing.PrintDocument object by using PrintDocument properties of Spire.Doc.Document. Now you can print entire pages with default printer without interaction. (This printing mode is also suitable for Web printing)
[C#]
PrintDocument printDoc = doc.PrintDocument;
printDoc.Print();

Step5: Implement interaction printing.Call the ShowDialog method of System.Windows.Forms.PrintDialog to print word document
[C#]
if (dialog.ShowDialog() == DialogResult.OK)
{               
printDoc.Print();
}

The following screenshot reveals the result after printing word document to XPS format: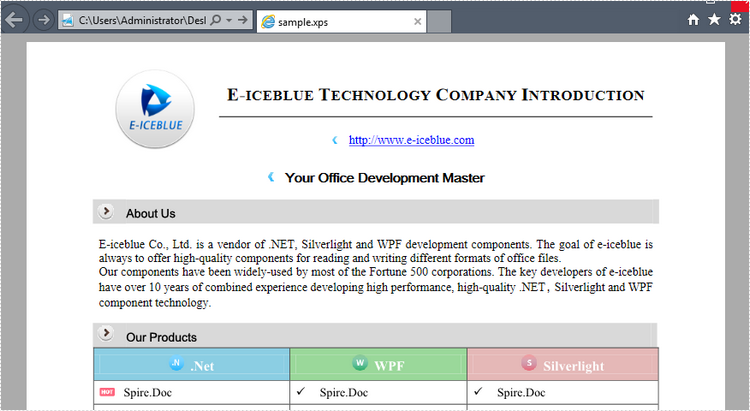 This is the complete c# code throughout this process:
[C#]
using System;
using System.Collections.Generic;
using System.Text;
using Spire.Doc;
using System.Windows.Forms;
using System.Drawing.Printing;


namespace Doc_Print
{
    class Program
    {
        static void Main(string[] args)
        {
            // Instantiated an object of Spire.Doc.Document
            Document doc = new Document(); 
            //Load word document 
            doc.LoadFromFile("sample.doc");
            // Instantiated System.Windows.Forms.PrintDialog object .
            PrintDialog dialog = new PrintDialog();
            dialog.AllowPrintToFile = true; 
            dialog.AllowCurrentPage = true;
            dialog.AllowSomePages = true;
            dialog.UseEXDialog = true;
       // associate System.Windows.Forms.PrintDialog object with Spire.Doc.Document  
            doc.PrintDialog = dialog;               
            PrintDocument printDoc = doc.PrintDocument;
            //Background printing  
            printDoc.Print();
            //Interaction printing  
            if (dialog.ShowDialog() == DialogResult.OK)
            {               
                printDoc.Print();
            }            

        }
    }
}