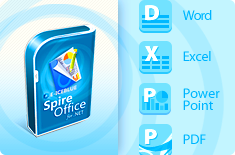 Powerful all-in-one Office Component Suite
This powerful component suite contains the most
up-to-date versions of all .NET/WPF/Silverlight components offered by E-iceblue.
The Spire.Barcode component is a really great product. I was looking for a component that did the I2of5, Code128 and GS1-128. It was very quick and easy to get up and running.
I did it without any documentation (although I looked briefly at the demo project provided.) The output was absolutely what I needed and the control over the human readable information was impressive and better than other controls I reviewed.
I would recommend this component to anyone who is loo...

Matt Warkentin

Sashco

2014-02-11

I have been testing Spire.Doc in an ASP.NET MVC application.
We start from a .docx-template document with bookmarks, that were to be replaced by application-data.
The Spire-library makes it very easy to handle the document....

The Spire.Barcode component has, in my opinion, a really high quality output and an efficient way to implement it into your own project.
A complete set of properties complete the possibility to customize the barcode output according to customer's requirements....

Thanks a lot for your help!
I just tested your software with the key and it works like a charm. Thank you.
Best greetings from Switzerland, David...

David E. Keller

2014-01-15

Hey, Just tell you team, great job!
I've been comparing your Spire.Doc when converting Word Doc to HTML this last year, and there were some problems. But, when I upload the same document to Google Docs, Google did not do any better in converting to HTML. So, I could not complain.
But, with the new 5.0 release, the trouble document look great when converted to HTML with Spire.Doc. But, still look bad using Google docs.
Thanks!...

Hello, new version of Spire.Doc fixed our previous problem.
Now it's fully functional! Thank you so much....

We have been using several file conversion utilities here at Aviacode over the years and would like to switch to your Spire.Doc product for our Microsoft Word conversions.
For Word conversions we found your product to be much simpler to use and more full featured....

Thanks for the new release of Spire.Office, that was just in time for us.
The new Spire version is working with embedded images in HTML conversion like a charm!...

Spire.Office is really a wonderful library!
There are almost no additional questions about usage.
Thank you for great responsiveness!...

Kaspars Priedols

2013-11-27

I found a sample conversion doc from one of your competitors which I am using to test with.
I found your conversion to be more reliable in output than theirs....

Spire.XLS - Perfect!!
The support on your product is prompt and excellent!...

Thank you so much for your customized Demo. That's awesome.
It does exactly what we need. I have recommended Spire.Doc to my manager....

I just download your BarCode dll and don't know how to use it in my C# windows app! to read the BarCodes.
You guys are amazing… Thanks a lot for your fast replying and also you're best site....

I have problem with tables in Spire.Doc. The problem is that when I specify width of columns the width is set to specific size, but when I'm starting typing a lot o text to this cell the width is changing!
Yes, I tested method - fix layout. It works. Thank You for support. Tell me what is price for Spire.Doc....

I've integrated Spire.Doc into our app with the temporary License, and it is generally working well.
I have now purchased the license to Spire.Doc, based on my evaluation trial and your great customer service :)...

We just purchased the Spire.XLS for Silverlight component. We are able to save as .xls, but are unable to save as .xlsx files. For your fast response, everything is working as expected. Thanks for all the help!...

Yes it worked for me I am using Spire.PDFViewer 2.0 and I am happy to find this control its really easy to use.
And yes I would like to apply the free license for 1 month.
Thanks for the offer.
Regards....

Your product is awesome, but more awesome is your support team. What I like best about you is the promptness of response of your development team (Gary and his team).
I am still using the unpaid version of your product but soon I am going to buy it. My manager has already agreed upon this. It will happen some time in September.
Thanks for following up with me.
...

The hot fix has fixed the 3 issues that I posted about on the forum, have to say thanks for the quick responses on the forum and the speed of the fix, better than another company we were evaluating at the same time who took a week just to respond on their support forums.
We purchased a license for Spire.Doc last week after evaluating a few products and Spire.Doc best suited our needs and worked the best.
Thanks....

On a second note, I am deeply satisfied by your customer service during the developmental period.
You were prompt, knowledgeable and extremely helpful....

Absolutely, Spire.XLS is great. In fact, it beats microsofts own components available for VB....

The product is great and your support team are very helpful, thank you.
My company has already purchased a full license....

We have been testing and evaluating your product and have had great success.
As a side note, I would like to say your customer service and technical support staff have been very responsive to our needs.
I would like to thank them for looking into the issues we had, and having a resolution in a short amount of time....

I would be glad to provide an evaluation:
e-iceblue was very prompt in providing feedback and delivery, even during a national holiday. And the tool they provided will add value to our company.
I am busy for the next few days, but I appreciate their service and would be glad schedule a more formal evaluation towards the beginning of next week....

Chandra, We got very good support from e-iceblue from production evaluation time to till date. e-iceblue team fixed few issues and sent hotfix during evaluation time. They are very dedicated and commited to support customers.
Niranjan and I extremely happy with their support and response. Daisy is the one always on top of things and very responsive. Please go through below link for more details on reseller contract, Thanks....

I want to thank you so much for your help with the Spire.Doc component.
I think you and your team have done an excellent job. Based on my prototype the company I work for is very excited about using your companies component....

I have tried again and succeed export more than 255 character, yesterday I made mistake in my query.
Thank you very much for help....

Perfect, thanks for that.
I appreciate the prompt reply....

Thank you for providing the correct download. Nice development tools. This really helps.
Keep it up!...

Francis Louie Te

2012-01-20

You are the most responsive technical support group on the planet!
Thanks!...

Les Pinter

VFP & VB.NET MVP

2010-09-01

I'm generating 180+ Docs a second with your software which is awesome....

Stuart Taylor

Inventas

2010-07-30

I am using Spire.XLS from last year. It works quite good....

I think that Spire.XLS is the best excel component for .net on the internet today!!
It is very easy to use and have all the functions for reading and writing excel.
I am very happy with this product, It will save time!...

Microsoft does not recommend using Office application in server-side scenarios. There are great 3rd party .NET excel component in the market that do the same job (or even better).
From a comparison testing I performed about a year ago Spire.XLS for .NET is the best from the following perspectives:
1. Read/Write of excel.
2. Support of embedding images.
3. Size of result Excel file is very small.
4. Convenient API and very similar to Office's one.
...

Boris Modylevsky

2009-06-19

The best excel component for .net, thanks for e-iceblue Ltd, no doubt for us to choose nice solution....

If you search great products, with great support, don't search more. You are here at the right place. Spire.XLS are simply powerfull and perfectly written.
Don't think twice: Spire.XLS for .NET is a breeze....

Many Thanks for this component.
Wonderful!...
Brilliant! Thanks a lot, Spire.BarCode is one of the best utilities I've found in a very long time.
The API is clean, library is fast and support superb!...
Leszczynski Andrew
2014-03-07
Appreciate your attention to customers. For the moment I just need Spire.Dataexport dll files for using in C# projects. Now it works brilliant. I suggest to purchase your service as soon as I get some commercial benefit for the projects.
Thank you again!...
Alexander Stroikina
2014-02-26